Is there a difference between fixed-price and hourly rate? The idea is taken from communication with our potential clients. There are many people who confuse these concepts. Today we'll make the meaning of the payment concepts more clear.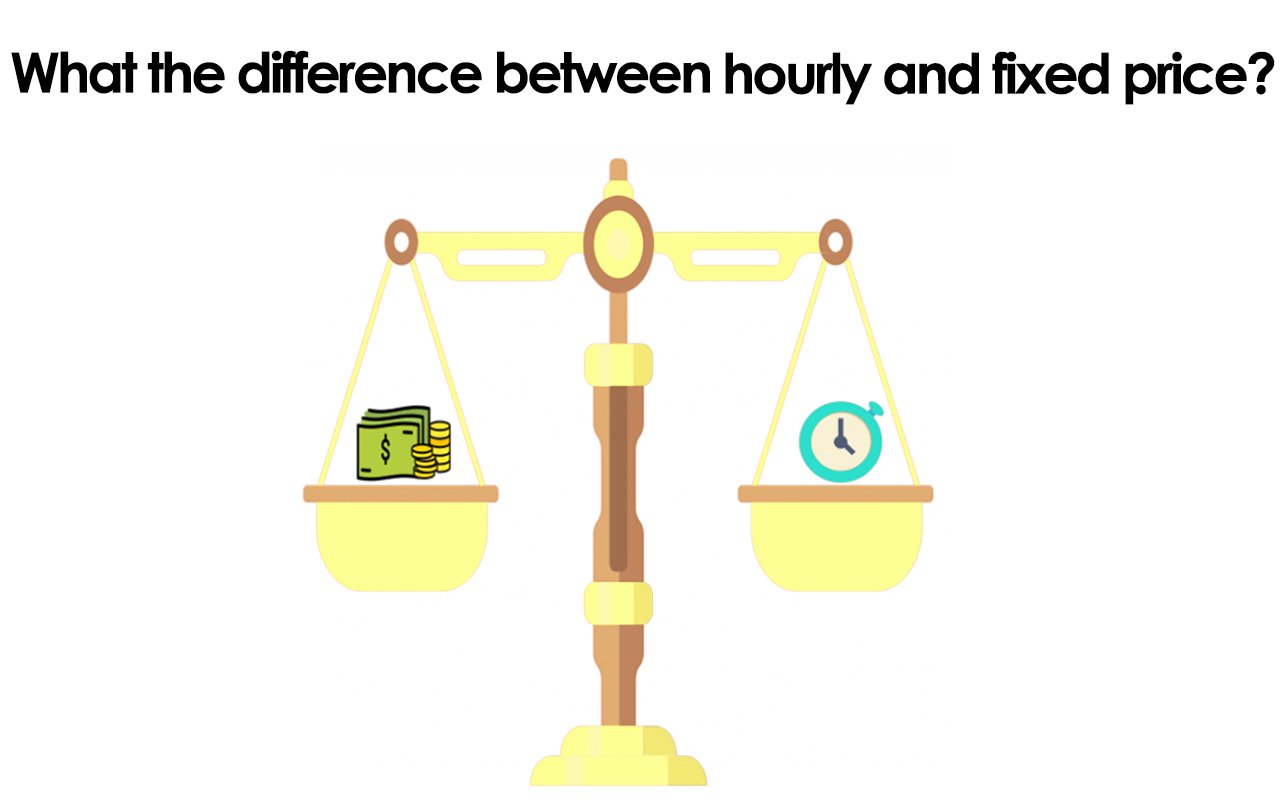 What is the Fixed price?
The fixed-price contract is when you get a particular cost for a specific service or set of services. In this case, you can pay in stages after the delivery of each completed milestone or all at once.
Pros
Clear result. A fixed type of payment fits projects with a narrow scope of work and understandable result. Before work starts, you and development company negotiate a clear end date and pre-determined milestones. You'll know exactly what the final result is and when you get it.
Careful planning. As the price and final date are confirmed in advance, you can easily manage and plan your budget, investments, marketing, and the start of sales.
Verify a new partner. A fixed-price can be a great way to start working with a new software company to test its skills, management, and etc..
Cons
Usually, companies overcharge the project cost trying to protect their budget.
The hourly rate for a fixed-price contract is usually more expensive because the risk for a development company is higher.
The project development with a fixed price takes a lot of time to prepare before it starts.
What are the Hourly rates?
Using this payment model, you pay a development company for every hour of their services. Specifically, the most popular pricing option, hourly rates, in turn, offer some advantages that can never touch a fixed pricing structure.
Pros
Budget savings. If you have your own development team with a project manager, and you want to hire additional specialists to perform specific tasks. An hourly rate would be the right choice for your budget. You will only pay for the hours that will be spent on development, and the project manager will monitor it.
Flexibility. If you and your IT partner aren't sure how many hours the project will take, the scope of work may vary depending on external factors or your schedule may change. In this case, you should only work for the hourly rate.
Speed. If you don't have much time for preparation and business analysis, and it was better to start yesterday. Then with hourly rates, you can start now.
Cons
It is very difficult to predict the budget and time of project development. You need to control the budget and time more thoroughly than with a fixed-price contract.
What is the main difference between hourly and fixed price?
The key difference is that hourly rates are suitable for complex projects where the end result cannot be accurately foreseen. For example, the automation of the supply department flow or the creation of a project with one function from Instagram and one from Pinterest. At the time, the fixed-price is suitable for understandable, standard, documented projects. Example: creating a landing page for selling a new car or updating a product catalog design.
Which Pricing Structure is more popular in Web Development and IT Consulting?
If you've read carefully the paragraphs above, you should understand it depends on project difficult, time for preparation, budget and your goals. Usually, complex projects need in IT consulting services. Where specialists can analyze the status of a project and then propose better solutions to improve business performance. The fixed-price structure is for easy tasks.
We recommend that you also read the article "What is the difference between IT Consulting and IT Outsourcing?".
If you need to get IT consulting just write us on office@syntech.software.
Let's collaborate!
Share the details of your project – like scope, timeframes, or business challenges you'd like to solve. Our team will carefully study them and then we'll figure out the next move together.