If you want your company to grow in leaps and bounds, you have to use the power of IT technologies for optimization your workflows. In this way, you can use own in-house developers or services of some IT consulting or outsourcing firms. In our minds, IT consulting companies provide a more flexible and comprehensive approach to software development than outsourcing ones. More information about that you can find in our article "What is the difference between IT Consulting and IT Outsourcing?". So below we've written the most popular cases when IT consulting services will be better than use or create your IT department for the quick progress.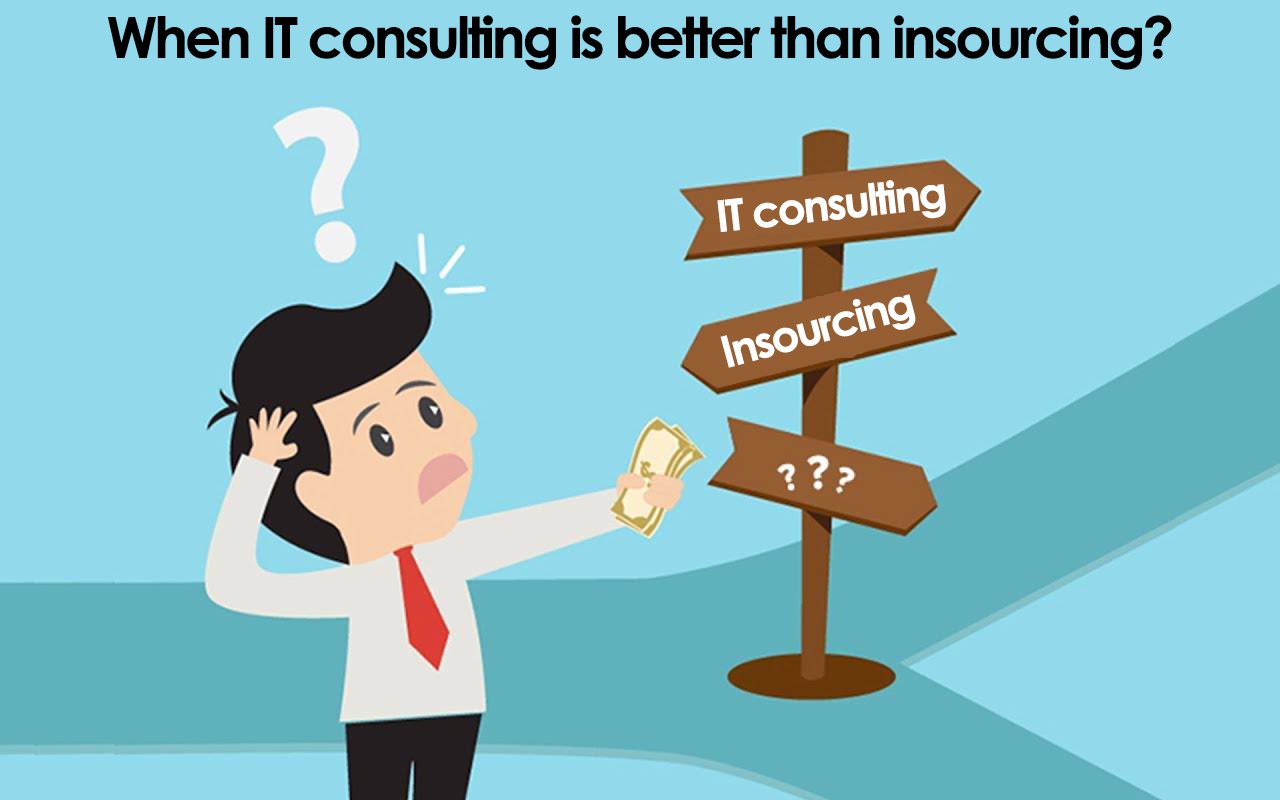 5 situations when IT consulting is better than insourcing
1. Quick and Quality Result
If your company needs some kind of software solution as soon as possible, then the best way for you is to find a consulting firm. They can deeply investigate your current situation or request, and then create high-quality software for you in the shortest possible time. Imagine how long you will be hiring a new IT department…
2. Experience and Expertise
Sometimes a need for modernization or optimization can be caught off guard you. And right now, you don't ready for changes: you haven't the IT department or your developers haven't the needed experience. In such a case, an IT consulting company can give you a hand with your challenges. Their specialists will create for your solutions and a seamless strategy of delivery according to your business specifics.
3. limited Budget
IT consulting services doesn't mean always expensive. It means you will get quality and state-of-art technologies. In addition, if you will calculate the cost of creating a new IT department and the time that you will spend on hiring experienced developers, you clearly understand the advantages of getting a reliable IT partner. In the state of IT consulting firms, you will find experts from different areas of IT. For example, developers of frontend, backend, and even full stack, designers of UI / UX / WEB, online marketers, project managers, business developers, etc.
4. No Need for IT Department
There are enough business niches that can operate without an internal IT department or do not see the benefits of its creation. But they also need to improve their workflows using IT technologies from time to time. If we have described your case, contact our managers to make an appointment at which you will receive useful information and, possibly, become our partner.
5. Staff Training and Certification
So, you have the IT department, and you want to improve or check their skills. In this case, you also can partner with an IT consulting firm. Their specialists stay up to date with the tendencies and work with new technologies day by day. After training your staff, your company will go from strength to strength in the future.
Now you can clearly understand what better fit for creating of your IT project. If your choice is a hire an IT Consulting company then you may start with writing to us on office@syntech.software.
We recommend that you also read the article "What does an IT Strategy mean? Some tips for its creating".
Let's collaborate!
Share the details of your project – like scope, timeframes, or business challenges you'd like to solve. Our team will carefully study them and then we'll figure out the next move together.